22nd - 24th November 2023
Sustainability Environment Asia (SEA) 2023, KLCC, 22 ~ 24 November 2023

Singapore Water Association is managing a Singapore Pavilion of 228sqm at Sustainability Environment Asia (SEA) 2023 which is co-located with E-Mobility Asia (EMA) 2023 on 22 – 24 November 2023 at Kuala Lumpur Convention Centre (KLCC). We have managed to secure grant support of up to 70% for SEA exhibitors from Enterprise Singapore (ESG). The participating fees (before grant support) is S$830 per sqm, inclusive of booth built-up, marketing and coordination cost.
Sustainability Environment Asia is dedicated to environmental preservation through the coverage of key areas like waste & water management, recycling and reuse of waste, green environmental and hydrogen technology. It is also an inaugural Sustainability show in Asia specifically for the water, energy and build-environment.
E-Mobility Asia will feature an international exhibition, conference, seminar and business meetings on the latest technologies and solutions in the Electric Vehicles sector which includes automotive variants, charging infrastructure, battery technology, energy storage, logistics, system providers and so on.
Both events will be running side by side at the same venue (different halls) and are expected to attract over 12,000 attendees and 200 participating companies from 25 countries and regions during the 3-day event.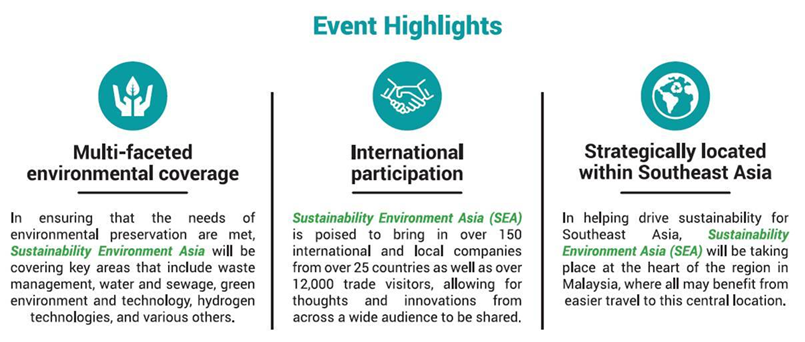 We would like to invite your organisation to participate as an exhibitor by taking up a booth under Singapore Pavilion (min 9sqm), with the above-mentioned ESG subsidy of up to 70% of the participating fees. Further information or details can be discussed. Please contact kenny@swa.org.sg for more information.
Please find attached files for the floor plan, brochure, booth entitlements, and registration form for your kind consideration.
Looking forward to your participation.
Floor Plan_EMA SEA2023_23082023
SG Pavilion_Booth Entitlement_SEA 2023_EMA 2023
SWA-KL Sustainability 2023 Reg Form (company_name) v1