SWA Signed Memorandum of Understanding on Inter-Trade Association Collaboration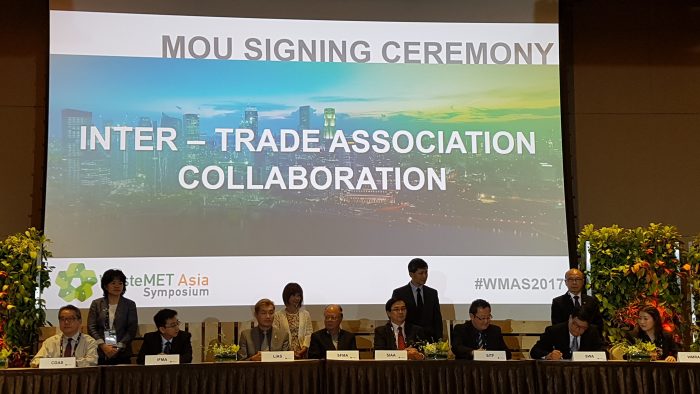 Singapore Water Association together with eight Trade Associations and Chambers (TACs) signed a Memorandum of Understanding (MOU) to identify individual industry challenges and develop joint projects and solutions for the benefit of their member-companies as well as to promote the business prospects of their respective sectors and contribute to a more sustainable living environment.
The nine TACs taking part in the signing ceremony for the MOU on inter-TAC collaboration on the morning of 19 October 2017 at the 4th edition of WasteMET Asia Symposium (WMAS) in Singapore EXPO were (in alphabetical order):
Association of Property and Facilities Managers [APFM]
Container Depot and Logistics Association (Singapore) [CDAS]
International Facility Management Association (Singapore Chapter) [IFMA]
Landscape Industry Association of Singapore [LIAS]
Singapore Food Manufacturers' Association [SFMA]
Singapore Industrial Automation Association [SIAA]
Singapore infocomm Technology Federation [SiTF]
Singapore Water Association [SWA]
Waste Management and Recycling Association of Singapore [WMRAS] (Lead TAC)
Gracing the occasion was Dr Amy Khor, Senior Minister of State, Ministry of the Environment and Water Resources and Ministry of Health. Accompanying Dr Khor, who is also WMRAS' Advisor, witnessed the signing of the MOU by the TAC Presidents/Chairmen or their senior council members, were Mr Ronnie Tay, CEO of National Environment Agency (NEA), Ms Chew Mok Lee, Assistant CEO of SPRING Singapore and Mr Charles Ho Nai Chuen, Vice-President of the Singapore Chinese Chamber of Commerce and Industry (SCCCI).