Thursday, 24th February 2022
[E-road show]: SWA Technology Mission in conjunction with IFAT 2022, Munich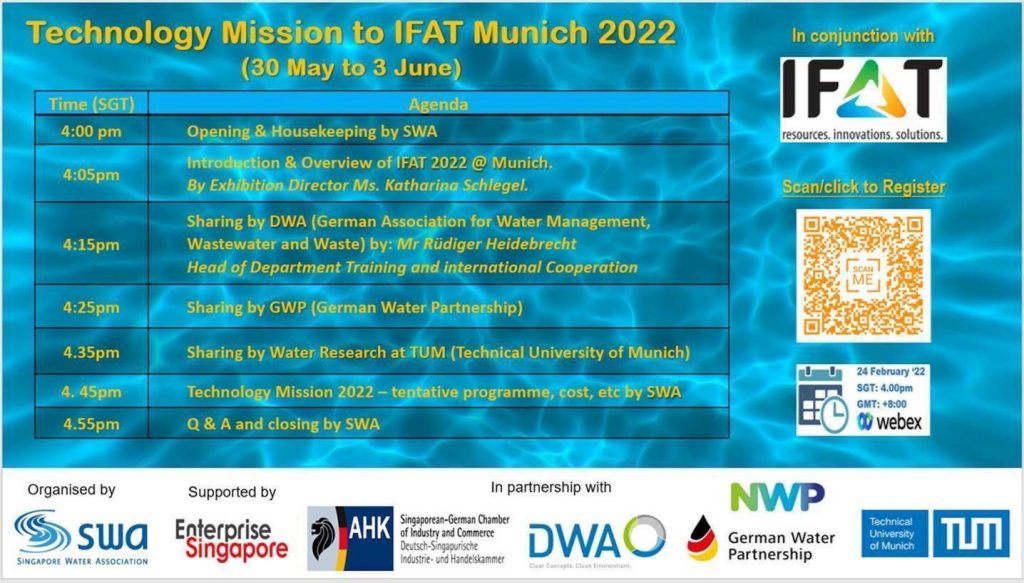 Dear SWA Members and Partners.
The Singapore Water Association is pleased to bring to you an e-Roadshow – Technology Mission in conjunction with IFAT 2022 @ Munich on Thursday, 24th February 2022, at SGT 4 pm / GMT: +8.
Once again, SWA will lead a Technology Mission in conjunction with IFAT 2022 @ Munich, from 30 May- 3 June; the world's leading trade fair for Water, Sewage, Waste and Raw materials management.
– IFAT 2022 will be one of the first major trade shows to take place after the pandemic-related trade fair break.
– This mission will focus on a better understanding of post-Covid business opportunities and challenges in Europe.
– Gain the latest market insights, R&D technologies, products, trends and develop potential cross-border technology/business collaboration with exhibiting companies.
– 2018 Technology Mission led by SWA: 20 member delegates including PUB, ESG and EDB. Pre-arranged meetings=55 and MOUs signed=9
https://www.swa.org.sg/programmes/photo-gallery/2018-2/nggallery/2018/ifat-technology-mission-to-munichgermany?details=1
– SWA has invited a panel of speakers to give an overview – what makes IFAT 2022 a must-attend event and how you can benefit from this Technology Mission.
– Who should attend: Professionals in sustainable solutions for water/wastewater treatment, environmental consultants and regulators.
– Admission: Complimentary for all guests.
– Date & Time: Thursday 24 February 2022 @ 4.00pm – 5.00pm (SGT,GMT:+8:00)
– Registration: https://bit.ly/3Bkym8j
About IFAT
IFAT is the world's largest and leading environmental technology trade fair. This world-leading trade show presents solutions for water, sewage, waste and raw materials management as well as solutions to make maximum use of resources and to close raw material cycles.
The 2018 edition attracted 3,305 exhibitors from 58 countries and 142,472 trade visitors from 162 nations. For more information about IFAT, please visit https://www.ifat.de/en/