Till 31 May 2021
Inviting all Young Water professionals in Singapore to join and become member of SWA
Hi All Young water professionals in Singapore!!
Are you below 40 years old, passionate about water sector, wanting to create solutions, partner with like-minded professionals to address global water challenges and seeking to grow your network, discuss ideas, and learn from peers? Come be a part of a growing Young Water Professionals Network in Singapore!
Join other young engineers and water professionals such as yourself and gain access to exclusive events, opportunities to connect with peers, water leaders, international companies, water start-ups, water entrepreneurs and the Singapore water Ecosystem at large.
ABOUT SWA YOUNG WATER PROFESSIONALS (YWP)
SWA Young Water Professionals (YWP) was founded in 2015 and aims to support efforts by SWA, by profiling and promoting the water industry as a viable and fulfilling career option to graduates and young professionals. This is achieved through maintaining strong partnerships with young water professionals from SWA member companies, via get-together dinners, fireside chats with established professionals within the water industry, indoor/outdoor group activities. In addition, SWA YWP actively reaches out to institutes of higher learning (IHLs) to conduct career talks and networking sessions, so as to promote students' interest in the water industry.
Want to connect to Water sector's leading professionals in Singapore – Come join us!!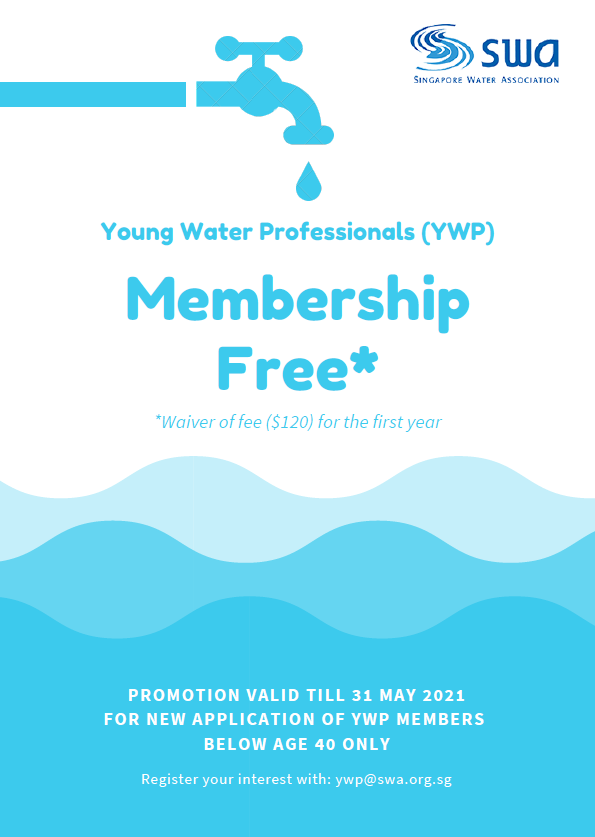 YWP Free Membership 2021