4th February 2021
Minimizing Chlorate in Water Disinfection : On-site Sodium Hypochlorite Generation brings Safer, Sustainable and Economic Water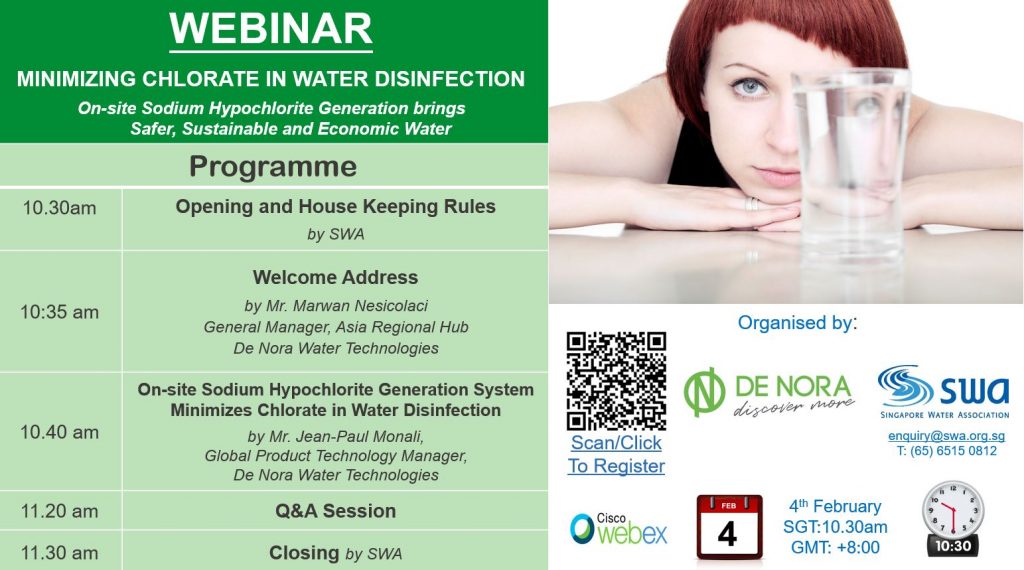 Singapore Water Association (SWA) and De Nora Water Technologies are co-organizing a Webinar : Minimizing Chlorate in Water Disinfection : On-site Sodium Hypochlorite Generation brings Safer, Sustainable and Economic Water on Thursday, 4th February @ 10.30am – 11.30am (SGT, GMT:+8:00)
Chlorate, is a highly oxidized form of chlorine that can be introduced to a water source as an industrial or agricultural contaminant or into a finished water as a Disinfection By-Product (DBP). As a DBP resulting from water disinfection with sodium hypochlorite and chlorine dioxide, chlorate was added to the Third Chemical Contaminant List (CCL3) in 2010, and was evaluated as a candidate for regulation under the Regulatory Determinations 3 (RD3) program in 2014, which indicates the EPA's growing attention to chlorate. The World Health Organization (WHO) recommends a chlorate limit of 0.7 mg/L (700 µg/L). Chlorate is also expected to be regulated by the EPA who has established 210 µg/L as a health reference level (HRL).
In this webinar, we will look at the hazards of chlorate as a major DBP and explore technology options for prevention and mitigation of chlorate.
Webinar Outline:
Health and Safety challenges from chlorate of water disinfection in Asia
On-site Sodium Hypochlorite Generation (OSHG) process introduction
Introduce how De Nora's OSHG system prevents and mitigates chlorate
Case sharing – How De Nora's OSHG systems help our customers in Asia secure safe water
Why you need to attend:
Get an overview of chlorate, a key DBP (Disinfection By-Product) and how it is regulated in the water treatment sector
Understand what the implications of your disinfection systems are with regard to chlorate
Learn how to minimize chlorate by technology options to ensure safe water
Learn how to manage water disinfection in a Safer, Sustainable and Economic way
REGISTER HERE or contact SWA T:6515 0812 E:enquiry@swa.org.sg for further queries.