31st March 2022
PUB Sharing Session with Singapore Water Association members on 31 Mar 2022 – Coastal Protection Department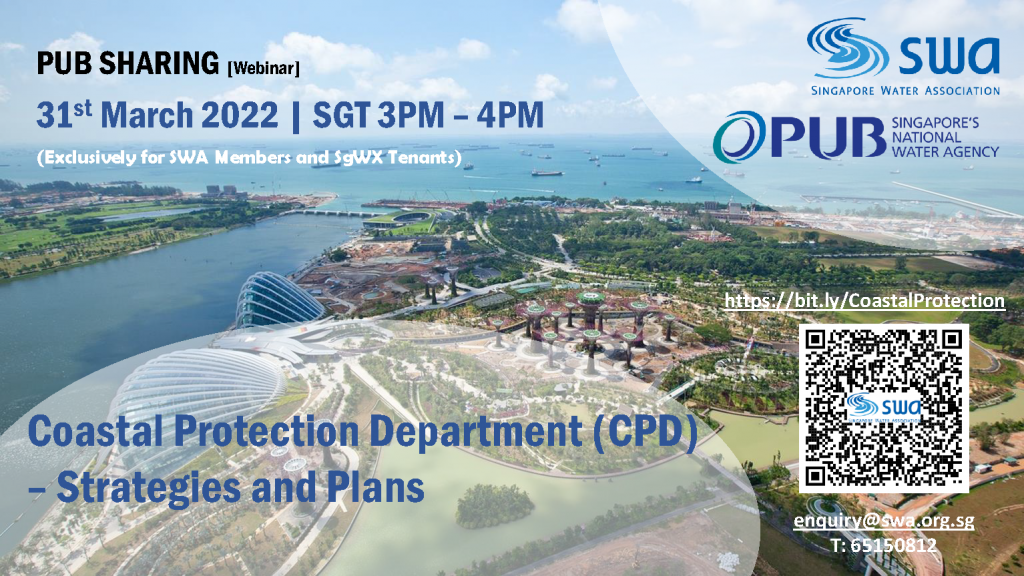 Dear SWA Members,
Singapore Water Association (SWA) is co-organizing with PUB, Singapore's National Water Agency a sharing session on PUB's Coastal Protection Department (CPD) Strategies and Plans on 31 March, 3 pm – 4 pm SGT.
PUB was appointed by the Singapore Government on 1 Apr 2020 as the national coastal protection agency to oversee and drive efforts to strengthen Singapore's coastline resilience against climate change.
PUB has set up the Coastal Protection Department to develop coastal protection strategies and regulatory framework, lead site-specific engineering studies as well as prepare for the implementation of coastal protection measures subsequently. PUB is also planning to embark on a coastal protection research programme to support the development of solutions that are effective, multi-functional, adaptive and sustainable.
The sharing session will shed light on PUB's coastal protection plans and strategies and the integrated coastal protection and flood management research programme.
Scan the QR code below or click HERE to register.