27th September 2021
SgWX Water Utilities Series – Saudi Arabia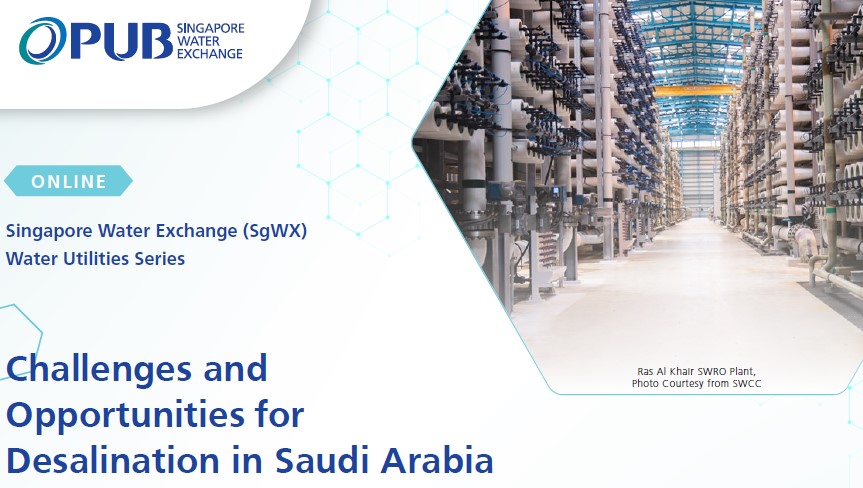 It brings us great pleasure to invite you and your colleagues to our next edition of the SgWX Water Utilities Series, online at the comfort of your computer, on Monday, 27 Sep 2021, 3 to 4.15pm.
The Saline Water Conversion Corporation (SWCC) is the largest producer of desalinated water in the world and the winner of "Desalination Company of the Year" in the 2021 Global Water Awards. SWCC also set a new Guinness World Record in Apr 2021 for the lowest energy consumption for desalination plant at 2.27kW/h per cubic metre of desalinated water. SWCC will share its ongoing projects, challenges and future plans in this webinar. Join us to find out more about the opportunities with SWCC in Saudi Arabia!
The speakers are Eng. Muhammad Abdulrahman Al Alshaikh, General Manager for Partnership, SWCC and Eng. Waled Mohammed Albarrak, Director of Capital Planning and Analysis Dept, SWCC.
We hope you can lock this date and time in your calendar and join us for a robust discussion online!
This webinar is open exclusively to SWA members and SgWX tenants. If you are not already a member, we encourage you to join and enjoy the benefits of SWA member.
Contact SWA Executive Office T: 6515 9812 or enquiry@swa.org.sg
Download EDM