21 June to 2nd July 2021
SIWW2021 Spotlight & Virtual Water Convention and Water Expo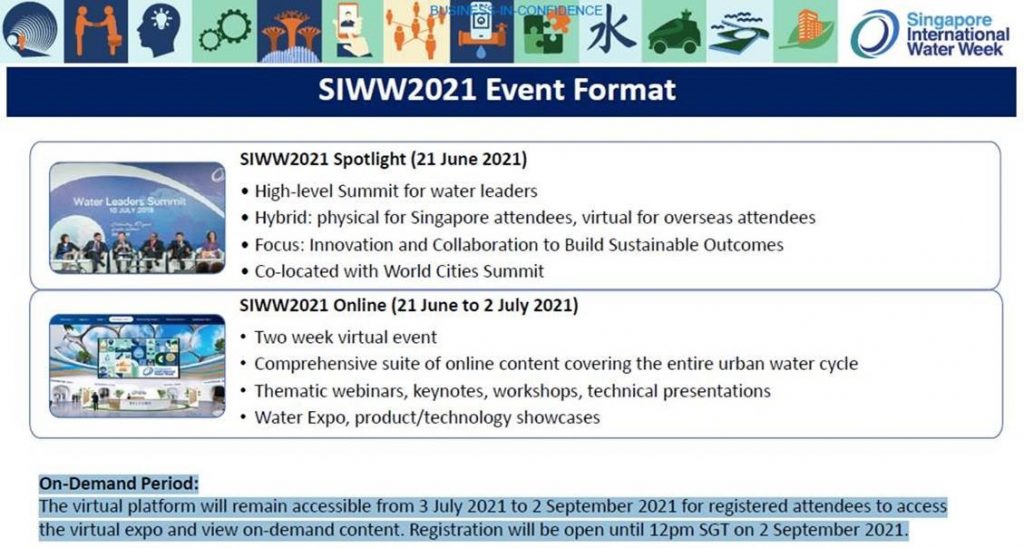 Singapore International Water Week (SIWW), World Cities Summit (WCS) and CleanEnviro Summit Singapore (CESG) will take on as a hybrid Summit & virtual Water Convention and Water Expo this year.
Will take place on 21 June 2021 as a hybrid high-level water Summit for leaders in governments, utilities, academia and industry to discuss and prepare the water sector for emerging challenges ahead, such as climate change and the pandemic.
Virtual Water Convention and Water Expo will be held from 22nd June to 2nd July 2021 on our digital platform to allow global leaders, experts and practitioners to connect, share and learn from one another in a safe environment.
This virtual event will also feature thematic webinars and workshops, technical sessions, product showcases, and a marketplace.
This virtual platform will remain open & accessible from 3rd July to 2nd Sept for registered attendees to access the virtual expo and view on-demand content.
Kindly refer to the attached application form and Exhibitor Entitlements.
To confirm your participation at SIWW2021 Online, please submit the application form by 30th April 2021 and send to jasvinder@swa.org.sg
SIWW 2022 will return to the in-person format alongside WCS and CESG, from 17th April to 21st April 2022.
For further queries, please contact Ms. Veronica Tay, veronicatay@experiaevents.com