Thursday, 3rd March
SWA Webinar: Nitro – Shortcut Nitrogen Removal (Fluence)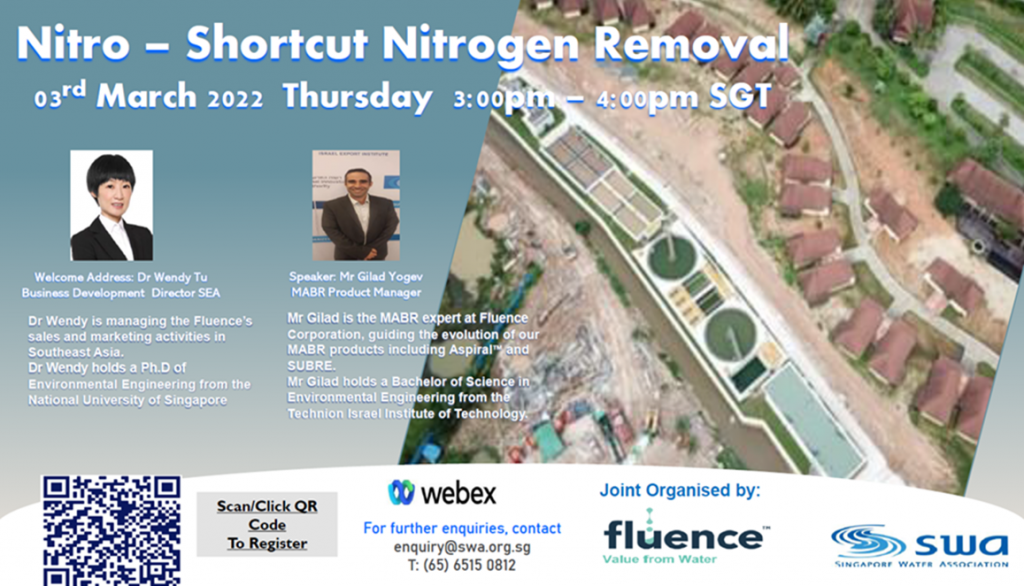 Dear SWA members & partners,
SWA and Fluence Corporation are co-organising an informative Webinar on "Nitro – Shortcut Nitrogen Removal" on Thursday, 3rd March @ 3.00 pm – 4.00 pm (SGT).
Nitro – Energy-Efficient Shortcut Nitrogen Removal for High-Strength Wastewater
Two common goals for wastewater treatment plants are nitrogen removal and energy neutrality, but in traditional biological treatment processes, the energy requirements for mixing and aeration are high. Carbon and chemicals to control pH levels also are required.
The shortcut nitrogen removal process saves energy by converting ammonia to nitrite, and then directly to nitrogen gas, skipping the conversion to nitrate in between, saves energy, carbon, and chemicals, along with lower sludge production — make shortcut nitrogen removal extremely attractive for the treatment of sidestreams with a high nitrogen load.
Nitro, Fluence's newest wastewater treatment product. Powered by MABR technology, Nitro provides energy-efficient shortcut nitrogen removal for high-strength wastewater. Using 40% less energy than conventional nitrogen removal processes, Nitro can remove more than 90% TIN, eliminating up to 20% of a plant's total nitrogen load. Small footprint. Large impact.
Curious to learn more about this breakthrough technology? Join us for the webinar.
Webinar Outline:
This webinar will discuss Fluence's unique MABR-based shortcut Nitrogen removal solution, the Nitro. General overview, key process characteristics, actual results and performance and techno-economical comparison to alternatives.
Why you need to attend:
– If you run a municipal or industrial treatment plant and are interested in upgrading.
– If you are interested in implementing the best solution for high-rate Nitrogen removal.
– If you are a consultant looking to compare technologies for shortcut Nitrogen removal.
Who should attend:
– Professionals in sustainable solutions for water/wastewater treatment, environmental consultants and regulators.
– Date & Time: Thursday, 3rd March 2022 @ 3.00pm – 4.00pm (SGT, GMT:+8:00).
– Admission: Complimentary for all guests.
Registration form: https://bit.ly/3sqFcoE