8th April 2022
SWA YWP Fireside Chat – Sharing by Founder of Waterbender sg (crowdfunding humanitarian relief for Ukraine) : Exclusive for Young Water Professionals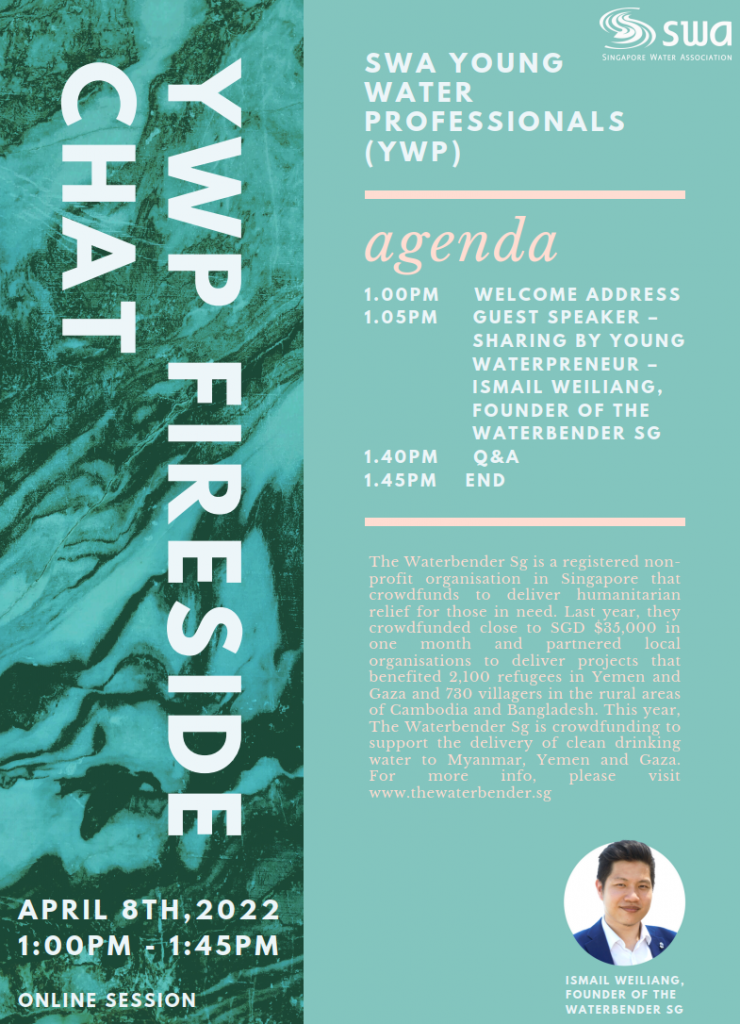 Exclusive for Young Water Professionals < 40 years old
Dear Members,
It brings us great pleasure to invite you to our regular YWP Fireside Chat with Young Waterpreneurs on Friday, 8 Apr 2022, 1:00pm to 1:45pm.
This time we are honored to have Mr. Ismail Weiliang as the guest speaker, who is the founder of The Waterbender sg and he will be sharing with us his motivation and story as a young water professional to run the non-profit organisation in Singapore.
Mark down the date on your calendar and join us for this event by registering HERE. We are looking forward to seeing you soon.
To know more about Waterbender sg:
The Waterbender Sg is a registered non-profit organisation in Singapore that crowdfunds to deliver humanitarian relief for those in need. Last year, they crowdfunded close to SGD $35,000 in one month and partnered local organisations to deliver projects that benefited around 3,000 refugees and rural villagers. This year, they are crowdfunding to deliver clean drinking water to Ukraine, Myanmar, Yemen and Gaza. The crowdfunding campaign will be launched on 02 Apr 22 for a month. Free milk tea or coffee will be delivered to those who contribute generously. For more info, please visit www.thewaterbender.sg